Air Travel Press Release 03 May 2022 by SmartCitiesWorld news team
A drone flight over the City of Winchester witnessed the simultaneous integration and operation of a range of unmanned aerial systems technologies from a coalition of public and private sector providers.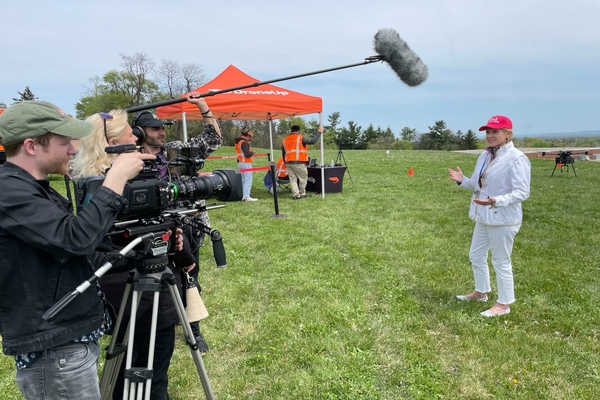 A demonstration involving small unmanned aerial systems (sUAS) being operated by multiple state, local and commercial organizations has taken place in Winchester, Virginia. The event took place during the 95th annual Apple Blossom Festival.
Key participants included the Virginia Unmanned Systems Centre at VIPC (Virginia Innovation Partnership Corporation), the Virginia Department of Aviation, DroneUp, ATA, Echodyne, and the City of Winchester.
Feasibility and safety
The goal of the so-called "Fly-In" was to determine the feasibility and safety of the federated UTM (Uncrewed Aircraft Systems Traffic Management) model and show how these different entities can work together and operate in the same airspace simultaneously performing a variety of functions.
In Virginia, the heart of this coordination activity is the Virginia Flight Information Exchange (VA-Fix) and, with the platform, Winchester claims it is on track to be one of the first "drone-ready" communities in the US.
VA-Fix integrates environmental sensors, weather sensors, data feeds, operations platforms, and surveillance technologies through a public platform for safe, effective simultaneous operations of UAS systems from public safety agencies, commercial operators, and hobbyists.
"The unmanned systems industry is growing. Winchester's success helps us better understand what a drone ready community needs to be successful as communities across the commonwealth prepare for the future"
This demonstration marks the first time this type of simultaneous integration and operation of UAS systems has happened in the US, the coalition reports.
"The Apple Blossom Fly-In is a demonstration of the Virginia Department of Aviation's (DOAV) commitment to both affordable and accessible public services that support advanced air mobility (AAM) and the UAS industry," said Greg Campbell, director of the DOAV.